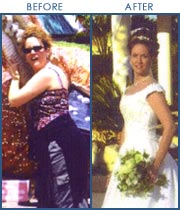 I joined the gym in June of 2002. I began to go on a "regular" basis in June of 2003. Although I am quite driven and self disciplined, I was able to lose only 1 pound in a two-month period. It wasn't until I received personal one-on-one training from Carol that I began to see results. And although I was eating pretty healthy, Carol pointed out that my portions were too big, and set me up on an easy to follow diet plan. I was also concerned that with my Fibromyalgia (a condition that is like arthritis of the soft tissues and muscles) I would not be able to do a proper workout without being in serious pain from it. Carol had knowledge of this condition, and was able to tailor my initial workout schedule and diet with this in mind. I weighed 146 pounds, was wearing size 12 to 14 pants, wasn't very active, and was sore and tired most of the time.
In four months, I was able to lose 17 pounds and 11 inches overall. I now wear a size 6 to 8 pants. I not only look better but feel better, too. The pain that I was having from Fibromyalgia does not bother me as much, if at all. Working out is a lifestyle change I needed to become more healthy. With a combination of cardio and diet, I was able to lose the weight. 3 times a week, I would do cardio for 20 minutes on one of the two elliptical machines, the treadmill, or bike. I would follow that with the weight training machines, which included all over body lunges with pull down, squats with rows, and the squats with upright rows, and also the more sedentary seated row, chest press, incline press, and leg press.
I began with light weights and reps of 15 / 2 sets. I have worked up to slightly heavier weights with reps of 20. I have maintained my weight these past 3 months, coming to the gym twice a week, and allowing a few more calories in my diet.
And when I wore my wedding dress on February 29, and it fit a little loose (my seamstress told me to "bulk up" a little before the big day), I knew I had achieved my goal - I was a "Pretty Princess" on my special day, and was rather toned, too. I was also able to dance the night away, something a year earlier I wouldn't have been able to do. I know that it was Carol that helped me achieve my goals, and would highly recommend her to anyone, no matter what fitness level.
Jennifer