Dedicated, high-quality instruction. Recommended for those new to training or those who simply want VIP encouragement.

An inspirational way to get the benefit
of an Encore Personal Trainer. Individuals train together during the same session at a lower rate per person than that of one-on-one training. Skill level and partner matching included.

Carol Strom, Encore Founder/CEO

Encore Personal Training was founded on the principles of honor, courage and commitment. Encore Certified Personal Trainer Carol Strom is available at the Green Valley Las Vegas Athletic Club (LVAC). Encore personal trainers are available to meet you at the finest Las Vegas gyms, spas and your private home gym. Looking to hire a celebrity personal trainer to travel with you and your team? Performing artists, corporations and movie production companies call (702) 845-4100 to schedule your free consult and body fat test.

Sign up today to see availablility, programs and pricing. Thank you in advance for your referrals. What can you achieve with unlimited personal training?
Call for details
(702) 845-4100
| | | |
| --- | --- | --- |
| | | |
| | Encore personal trainers have advanced degrees, professional athletic backgrounds and over 10 years of experience to guarantee results. | |
| | | |
| | | |
| --- | --- | --- |
| | | |
| | Book now! Instant solutions to your busy life, burn fat, achieve weight loss and build lean muscle as fast as possible with Las Vegas Personal Trainers. | |
| | | |
| | | |
| --- | --- | --- |
| | | |
| | Encore Fitness services provide individuals, corporations and the government with personal trainers, life coaches, aerobics, yoga, Pilates and boot camp instructors. | |
| | | |
---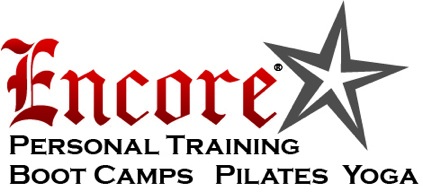 Kathryn Stone
Age: 26
Height: 5' 11"
Before:
Weight: 189lbs
Body Fat: 29.2%

After:
Weight: 170 lbs.
Body Fat: 21.3%

"After enjoying many late nights of clubs and cosmos I woke up one morning only to realize that I was not looking my best, actually I didn't recognize myself! My body looked unhealthy and I was significantly overweight from my party lifestyle and very bad habits. Encore Personal Training turned my life around, I now look and feel better than ever! My custom Encore meal plan was the easiest I've ever followed. The success from working out has opened so many doors. I am now working as a professional model with an agency (www.kathrynstone.wetpaint.com). Recently, I was awarded the title of "Miss Henderson International" and am getting ready to compete for the Nevada state title. Thanks LVAC and Encore Personal Training for helping to make my dreams a reality!"
ÐKathryn
-update 2010: Kathryn Stone is now Miss Nevada International and is getting ready to compete for the Miss International 2011 competition!
"Kathryn is a regional sales manager who made the time for herself. Her cellulite disappeared by feeding the muscle and burning fat the right way in the gym, no shortcuts, even over the holidays. By summer she was at the VIP cabanas in beautiful form laughing and enjoying herself at weekend pool parties."
-Encore Personal Trainer, Carol Strom
Mark Norton
Age: 39
Height: 5' 8"
Before:
Weight: 204lbs
Body Fat: 24.4%
Pant Size: 38

After:
Weight: 198 lbs.
Body Fat: 20.1%
Pant Size: 33

Mark's Story:

"The Encore Personal Training program gave me the determination to change my life and get healthy. At 40 years old, I am now in the best physical condition I've ever been in. While living in Las Vegas, the personal trainers at Encore changed my life and the way I live my life. I am now taking dance lessons at Stoney's on Friday nights. Before, I never had the energy to go to the lake or the pools, now I have a boat. It felt so great when I first noticed the weight coming off. The biggest change in my life is that now I am attracting the type of women that I'm attracted to. Before I started working out, I was less confident in myself. The Encore Personal training program made me more outgoing. I met a lot of great Las Vegas locals in their networking system.

I do circuit training on average 3 days a week for 30-45 minutes after I warm up and then I do my cardio in addition to that when I have time because my trainer makes me be on time, stretch and follow a custom meal plan. Sometimes I go 4 or 5 days a week because itÍs the same price per month so its easy for me to budget. My favorite workout is leg day and I love the chicken recipe. Their trainers work on shifts, so you know you still have accountability in case you need to come in earlier or later. Having booked recurring appointments makes me show up and the Encore website saves me a whole lot of time if I need to reschedule.

Honestly, I decided to join Encore to date more attractive women, but now, I'm glad I joined for my health. I am so much more positive to be around and I would recommend Encore to everyone."

Las Vegas Athletic Club (LVAC) Personal Trainer Carol Strom, about Mark

"This is a good example of how toned muscles look versus being out of shape. Mark lost 4.3% of his fat (10lbs) and gained 4lbs of muscle in a few months and has maintained it for 2 years. Mark now has a passion for working out and he said that he is ready to take it to the next level. Encore is like a school for LVAC members. People meet other health conscious people who care about each other and grow as an athetic team. We take new people and advanced people and place them with the right trainer based on their goal for private or partner matching based on their skill level."
Dr. Barry Lasko
Muscle Gains & Fat Loss Results Achieved with Group Circuit Training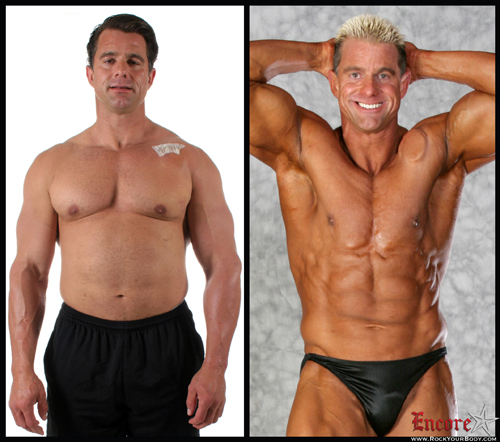 Dr. Barry J. Lasko's Story

"Many don't know what Barry has overcome to achieve such outstanding results. Barry has the focus and determination of a true winner. He is a coach's dream because he will do exactly what you tell him.

"On our first meeting, I was worried because Barry could barely climb the stairs to his treadmill test. The routine physician release to work out and find out what was wrong with his breathing turned into an emergency pacemaker and defibrillator install due to sleep apnea coupled with a congenital heart defect.
"With Barry's heart doctor's okay, we saw his determination and hope deepen. The breathing machine for sleep apnea and the pacemaker corrected the heartbeat, so we got permission to gradually work up from slow workouts 2 days a week to 5 days a week and ten 45-minute sessions of cardio a week. He also attended all video posing practices and professional photography sessions to see how he was coming in. Many people wouldn't dream of getting up before work and then coming back after a busy day, or follow a very strict diet for 12 weeks. That's what it takes to look like this for a contest. He trained like a champion, integrated laser surgery into his dentistry business, rescues animals, and continues to be a devoted husband and father of four. He even has a cute therapy dog in his dental office. Barry is a champion, role model and inspiration to all of us here at LVAC."

Dr. Barry J. Lasko
Age 46
Height 6'2" Weight 220 lbs
Body Fat 4%
3rd Place Emerald Cup